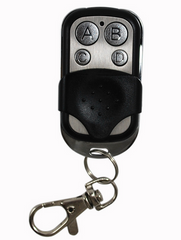 Foresee F-350 / F-330M / F-330G / FR1 / FR30 Replacement Remote Control Fob
Replacement Rolling Code Remote Control For Foresee F-350, F-330M, F-330G, FR1, FR30
The FR Multi is a 4-channel rolling code remote control which can be used as a replacement or additional remote for Foresee system. This is a high quality, robust remote with a protective sliding cover.


The FR Multi programs and works just like your original Foresee. Easy programming instructions are included.
Specifications:
1x 433.92 MHz Rolling Code remote control for Foresee systems.
Battery and key chain included
Distance: Up to 100 meters
WE ARE TOTALLY COMMITTED TO 100% CUSTOMER SATISFACTION. We can guarantee that if you experience ANY problems we will endeavour to resolve them as a matter of urgency so please get in touch before leaving feedback.