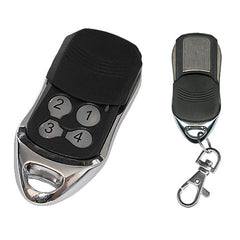 Merlin 230T / M832 / M842 / M844 Replacement Remote Control Garage Gate Fob Transmitter - Green Buttons
The Tec-Multi M1 is a long range, 4-channel rolling code remote control which can be used as a replacement or additional remote for your Merlin model. The Tec-Multi M1 pairs with your Merlin receiver unit just like the original. Easy programming instructions are included.
Specifications: 
1x 433.92 MHz Rolling Code remote control for Merlin
230T / M832 / M842 / M844
.
Robust silver metal casing.
Battery and key ring included.
Distance: Up to 160 meters