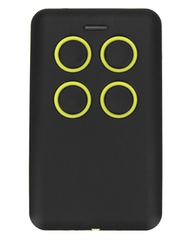 Multi Brand, Universal Rolling and Fixed Code, Multi Frequency, Self Learning, 4-Channel Remote Control Duplicator 280 MHz - 868 MHz
Our new TecMagic model is a long range, rolling and fixed code, multi frequency, multi brand, self learning 4-channel remote control which can be programmed from your original brand remote control. The remote is manufactured with very high quaility materials that feels great in your hand. Easy programming instructions are included.
Some of the rolling code remotes that can be duplicatead:
Specifications:
1x Rolling/Fixed Code, Multi Frequency Remote Control.
Frequency: 280 - 868 MHz
Battery and key ring included
Distance: Up to 160 meters